Meditate Tips & Tricks
The following are a few tips and lesser known features for using Meditate.
Setting times to 00:00 with one tap
When setting time settings you can tap the time display to set the current setting to 00:00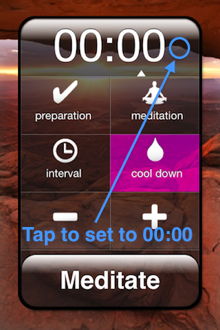 Note: With Meditate you can set all time settings to 00:00, and pressing the meditate button will simply ring the chime.
Fine Increment Mode
If you wish to set times in finer increments you can press and hold the mode key and while holding the mode key you will enter fine or coarse increment mode.
Note: Mode keys are the keys labeled "Preparation", "Meditate", "Interval", and "Cool down"
You will see the increment indicator slide over to the mins or seconds. While still holding the mode key press the "+" or "-" to set the time in the finer increments. Once you let go of the mode key the increment indicator will move back to the default increments for that mode.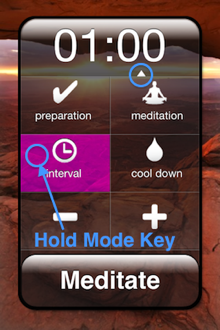 Infinite Intervals
Setting all time settings to 00:00, and setting interval to any desired time setting will give you a chime at each interval period for infinity.
Resume with Preparation
If you pause your session, or it is interrupted for some reason, you can restart your session where you left off but resume with preparation time. To do this press and hold the pause button until you see the preparation mode start. The preparation time will count down, and then your session will resume where it was originally paused or interrupted.
Shake to Change Background
When you start Meditate, the background is chosen at random. You can change the background by shaking the device.
Minimizing The Session Screen / Hiding Time
While your session is running you can minimize the display by tapping the mode display on the session screen.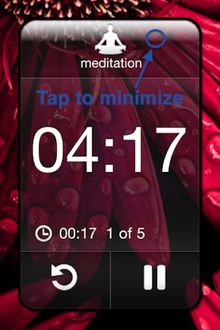 Note : if in the settings you have hide time turned on, minimizing the display will hide the time as well.
Toggle Time Display
You can toggle which time is displayed in the session screen by tapping the secondary time display. The primary time display will toggle between session time and interval time.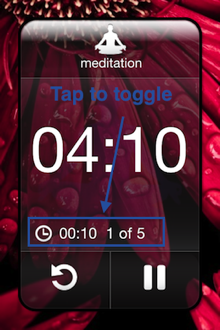 Setting Chime Delays
If you would like to modify the time between chimes when using 2 & 3 times strikes you can set this in the App settings located in the devices settings area under Meditate.
Enter the settings area for Mediate (available in the device settings app).
Select which chime delay (2 or 3) you want to modify.
Select the amount of seconds before the alert is sounded
Note:
The amount of time is not cumulative, therefore if you set chime two for 10 seconds, and chime three to 12 seconds, then alert three will sound 2 seconds after chime two.
Other Settings
If you enter the settings area for Meditate (available in the device settings app) there are various settings available to you.